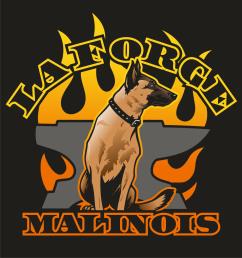 Barriques' Floreke

Size:  Approximately 65 lbs.

Dentition:  Full with Scissors Bite

Hips: OFA Good 

Elbows: OFA Normal

Spine:  X-rayed normal

Bloodwork:  Normal

AKC Registered

Flor is a "total package" female from working belgian lines.  She has it all - pedigree, temperament, drive, and a proven track record as a working dog producer.  She is energetic, high drive, fast, pushy, fearless, and she quivers with excitement at the hint of doing bitework or hunting for a ball.  True to her pedigree, she has full, hard grips during bitework and a working intensity that is tough to match. 

Flor's stand-out characteristic is her ability to make connections so quickly in training.  She passes this intelligence to her pups, making them a great choice for high-level, experienced trainers.

Flor is socially stable, but not at all a push-over.  She will let you know when you have crossed the line. .   Click
HERE
to see videos of Flor's pups.